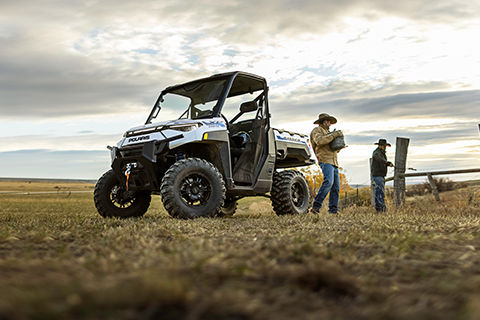 RANGER XP Kinetic provides the power to do more with uncompromised capability, unrivaled durability, and the refined performance of an all-electric powertrain.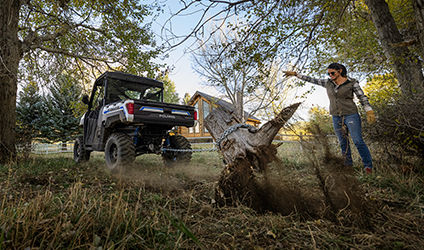 Industry-leading 110 HP and 140 lb-ft of nearly instantaneous torque delivers exhilarating acceleration and the confidence to tow 2,500 lbs. and haul an industry-exclusive 1,250 lbs.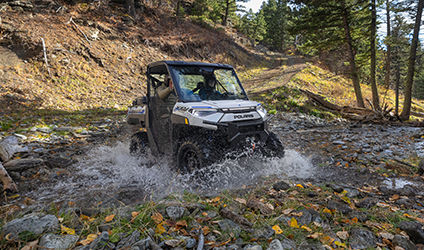 The electric powertrain has fewer moving parts, meaning less maintenance and more uptime. It's been torture-tested in extreme conditions and is backed by an exclusive 3-year electric powertrain coverage and 5-year battery coverage.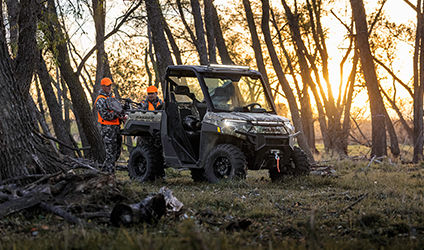 With its quiet operation, enjoy easy conversation while riding and stealthy trips to hunting spots. Plus, RANGER XP Kinetic offers 3 drive modes, Eco+, Standard and Sport, so you can optimize the power for the task at hand.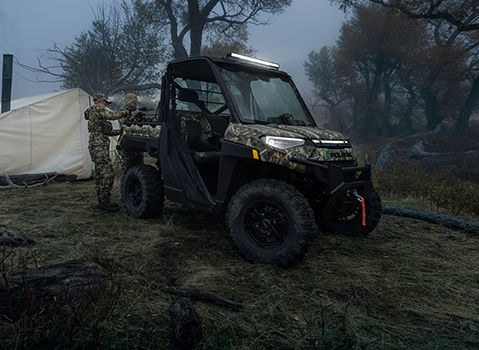 IMPRESSIVE RANGE, FAST-CHARGING, LOW MAINTENANCE
With range up to 80 miles, convenient charging from a 120V outlet, and less scheduled maintenance than a similar gas-powered vehicle, RANGER XP Kinetic gives you the power to do more.
Pick the range that is right for you. RANGER XP Kinetic Premium hosts a 14.9 kWh Lithium-Ion battery with up to 45 miles of range, while the Ultimate features a 29.8 KWh Lithium-Ion battery that delivers up to 80 miles of range on a single charge.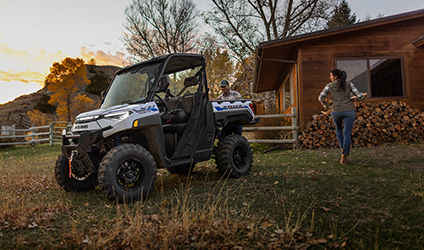 Scheduled maintenance costs are estimated to be 70% less than similar gas-powered vehicles. Plus, save an average of $200 in gas per year. In 5 years, that means an estimated savings of over $3,500.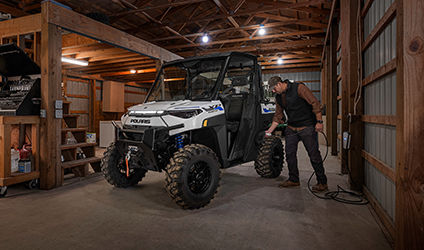 Fast and Convenient Charging
Whether you're looking for an overnight charge or a quick top off during lunch, we've got you covered. RANGER XP Kinetic comes standard with a combined Level 1 / Level 2 charger that allows you to charge from a 120V or 240V outlet and can reach full charge from 0% in-as-fast-as 5 hours as equipped.
Professional Installation with Qmerit
A Level 2 (240V) power supply is recommended for the fastest possible charging.
We've partnered with Qmerit to make home installation of Level 2 charging quick and convenient.
For most installations, all you need to do is give some information about your home layout and electrical panel. The free estimate will take only 5-10 minutes and you can decide whether to move forward at your convenience.
The RANGER XP Kinectic is the first Polaris vehicle to come equipped with advanced RIDE COMMAND+ technology. RIDE COMMAND+ keeps tabs on key information such as issue diagnostics, vehicle location and remote vehicle health - all from the convenience of your phone on the Polaris app, for added peace of mind.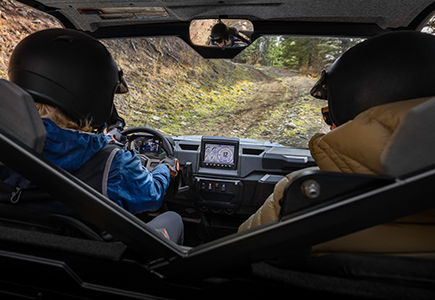 On the RANGER XP Kinetic Ultimate, the 7-inch infotainment screen powered by RIDE COMMAND keeps you a step ahead of the off-road. View estimated remaining range, battery state of charge, and with GPS mapping, drop a waypoint on your charging location to always know how far you are from your next charge.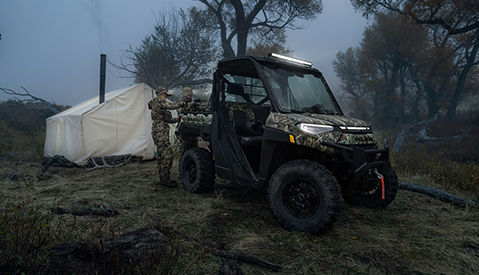 Customize RANGER XP Kinetic
With Polaris Engineered accessories, equip your vehicle with tools to get the job done. Enjoy added rider comfort, extra pulling power for tough jobs, additional storage for to haul all your tools or gear, and so much more.
Accessories to Tackle the Job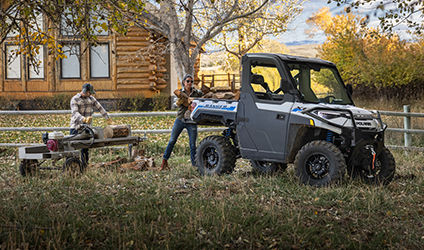 Ride in comfort all year round with a Pro Shield cab system. Select a roof, windshield, rear panel, and set of doors to reduce water, wind, dust and other elements from the cab.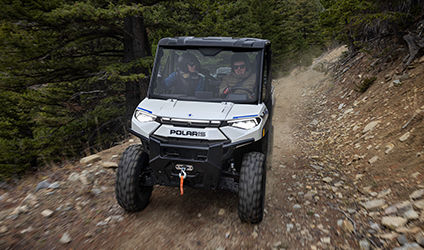 With a Polaris Pro HD winch, tackle heavy-duty chores such as pulling tree stumps, fence posts, and more with added pulling power.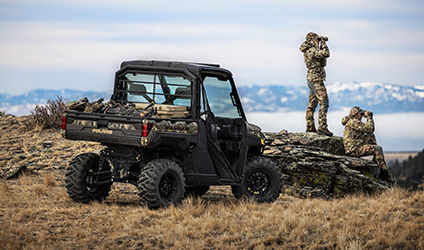 Pack all the tools, materials, or gear you might need for the day with maximized storage capabilities with easy-to-install Lock & Ride design.
Be the first to get updates on the all-new
RANGER XP Kinetic and pre-order availability
Unlock the Power of Electric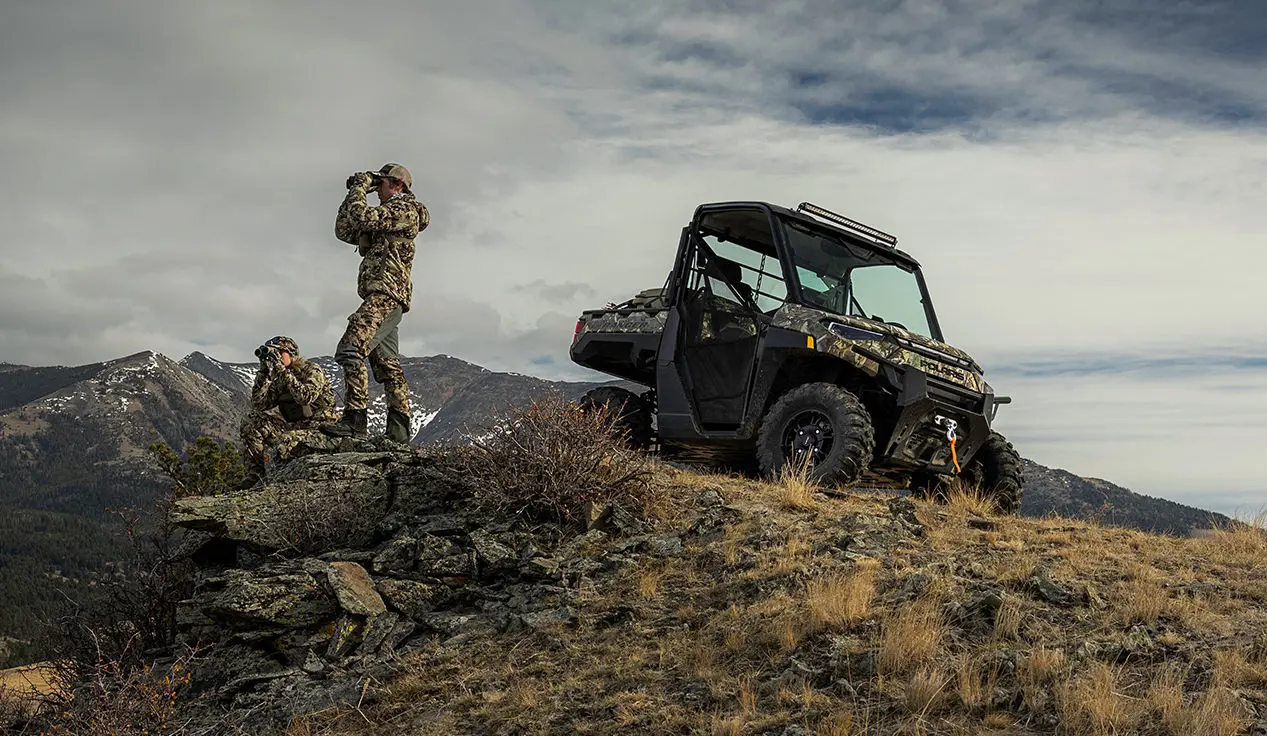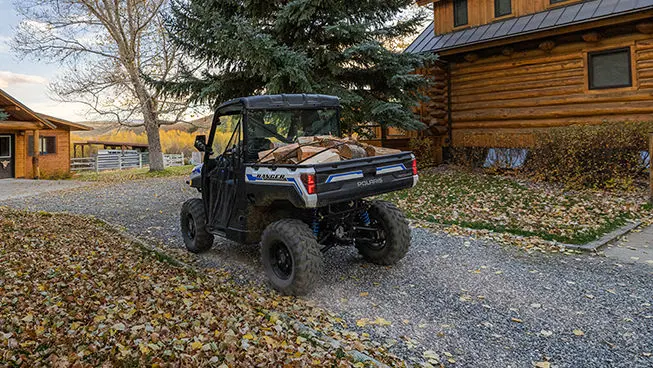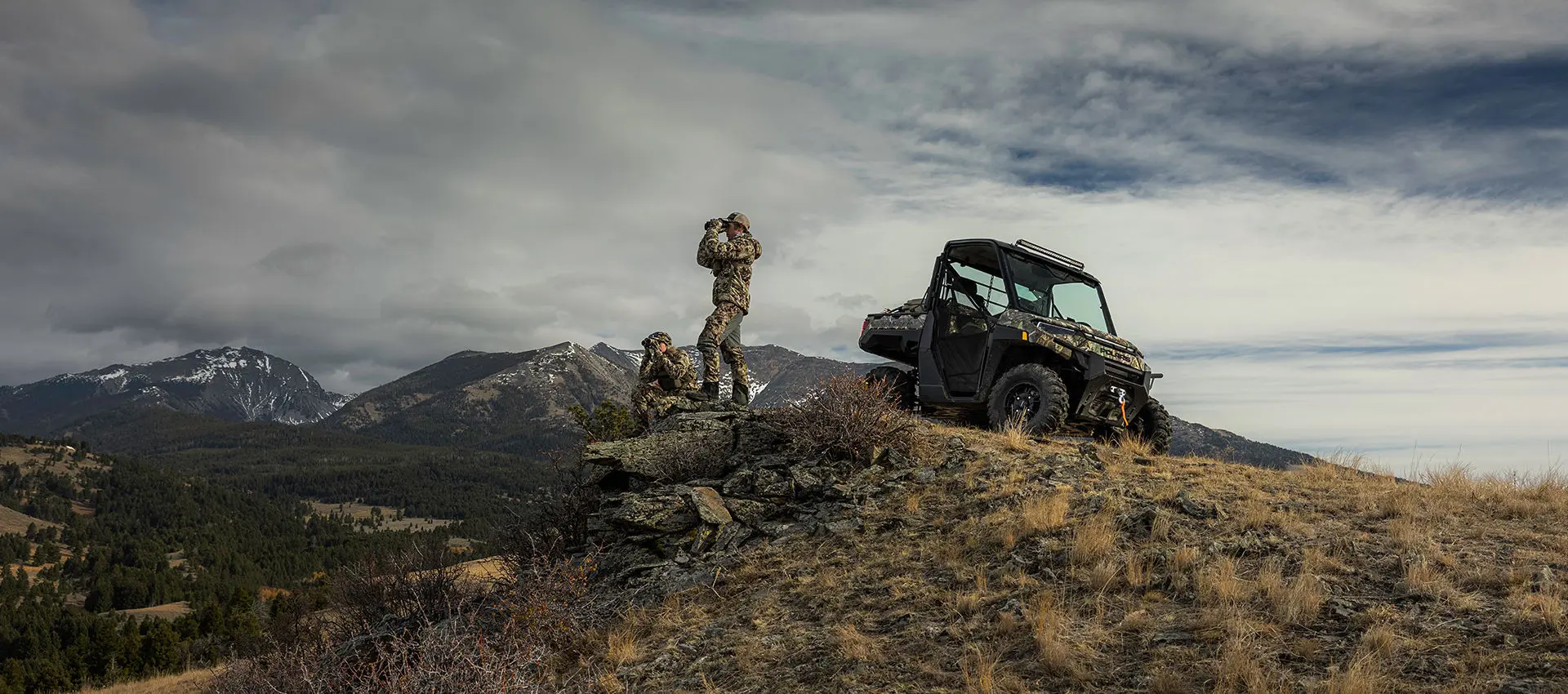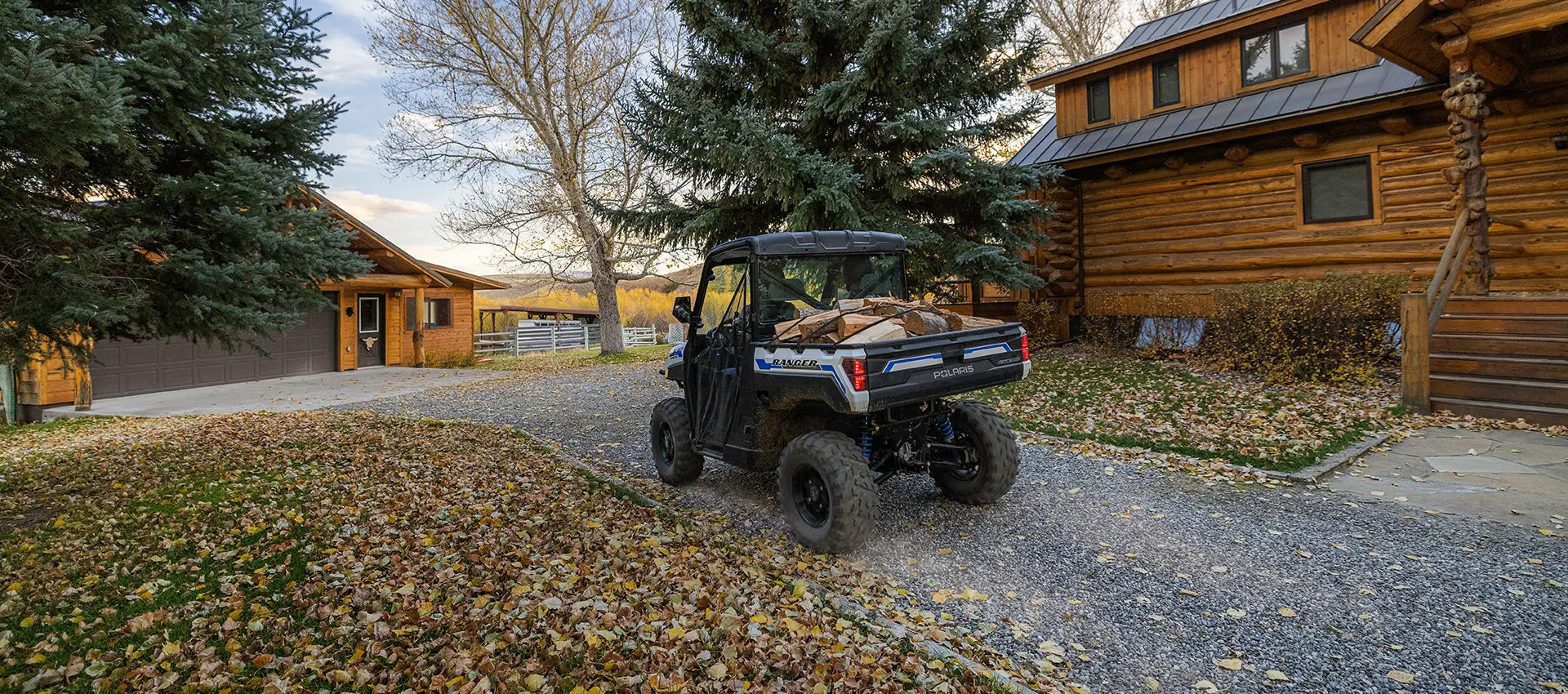 **Availability of some equipment, options and/or features, including Wi-Fi connectivity on Ride Command models, may be limited or not available due to global supply issues affecting our industry. Please continue to build your vehicle and request local dealer price but be sure to work with your local Polaris dealer to ensure the vehicle you purchase includes all expected features and equipment.

All pricing, specifications, claims, and information contained on this website are based upon current knowledge available at time of publication and are subject to change without notice, and Polaris assumes no responsibility for changes in pricing or specifications. Polaris assumes no responsibility for any inaccuracies, opinions, or omissions on this website. ©2021 Polaris Inc.


*Promotional powertrain warranty inclusive of 12-month factory warranty plus an additional 24-month warranty. Promotional battery warranty inclusive of 12-month factory warranty plus an additional 48-month warranty. Please see terms and conditions for full details.
*Manufacturer estimate based on average scheduled maintenance costs over the course of a 5-year timeframe.
*Range estimates based on manufacturer data on typical customer driving usage and conditions. Actual range varies based on conditions such as external environment, weather, speed, cargo loads, rates of acceleration, vehicle maintenance, and vehicle usage.
*Charge times are estimates based on manufacturer-generated simulations. Charging time decreases as battery reaches full capacity. Results may vary based on amperage, peak charging times, and battery state of charge.