You no longer need to sacrifice power or performance when choosing electric. The RANGER EV features a powerful 30 HP engine, box capacity of 500 lb and towing capacity of 1,500 lb, making it more than capable for tough tasks.
With 10.5" of ground clearance and 9" of independent rear suspension, you'll experience a smooth, comfortable ride over tough terrain.
The RANGER EV is your best hunting companion, with ultra-quiet operation. Maximize your chances of hunting success with more stealthy entry and exit, while still having the capability to get to remote hunting spots.
Take on the toughest work, go ahead, our accessories help you go further & do more.
Customize your RANGER EV with individual accessories that help you get the job done.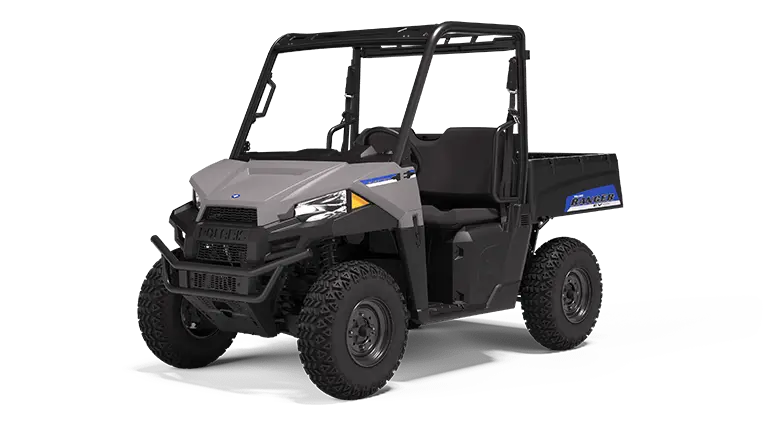 WIDTH

58"

HP

30

CLEARANCE

10"
RANGER EV
Starting at
$13,499
US MSRP
Plus destination charge and set-up.
Logistics surcharge of $400 will apply.*
Trim & Color Options
Avalanche Gray
Includes
30 HP
Single 48-Volt, High-Efficiency, AC-Induction Motor
1,000 lb Payload Capacity
1,500 lb Towing Capacity
10" Ground Clearance
2-Person Seating Capacity
Polaris Ranger EV Gallery
( / )
* Manufacturer's suggested retail price (MSRP) subject to change. The MSRP is subject to a potential maximum increase of 5% for pre-ordered vehicles that ship after March 31, 2022. MSRP also excludes destination and handling fees, tax, title, license and registration. Dealer prices may vary.

All pricing, specifications, claims, and information contained on this website are based upon current knowledge available at time of publication and are subject to change without notice, and Polaris assumes no responsibility for changes in pricing or specifications. Polaris assumes no responsibility for any inaccuracies, opinions, or omissions on this website. ©2021 Polaris Inc.