Bluetooth® Connectivity
AM/FM Radio
GPS Navigation on Topographic Maps
Vehicle Diagnostics
Connect to Bluetooth® to stream your favorite music apps or turn on the big game with AM/FM radio while you work. Whatever your speed, listen at the perfect volume using the new Automatic Volume Control. Enjoy premium sound quality through factory installed in-dash speakers.
Connecting a trailer to your RANGER just got easier thanks to the back-up camera.
All-new Plow Mode makes plowing quick and easy by automatically adjusting the plow position depending on the gear you're in. Drop, drag and push to remove snow easier than ever before.
Extend the day of work or rec with 90% more output than halogens for improved nighttime visibility and safety.
Track Your Group & Set Waypoints
Group Ride allows you to view live locations through your smartphone or vehicle installed antenna, allowing you to keep your group together on the trail. New Group Ride Messaging lets you send messages to your group, staying connected on or offline. Utilize the waypoint feature in the built-in GPS to easily navigate to important destinations.
The vehicles listed below are available with Factory Choice packages, including Ride Command and MB Quart Audio Upgrade. Select a model and start building your own custom vehicle.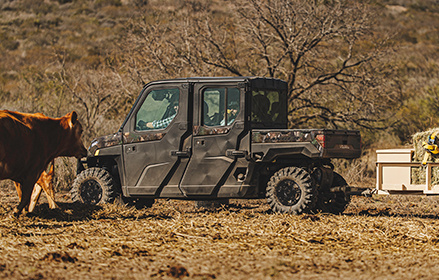 Plan and track your rides, discover new trails, and work smarter with industry-leading technology.