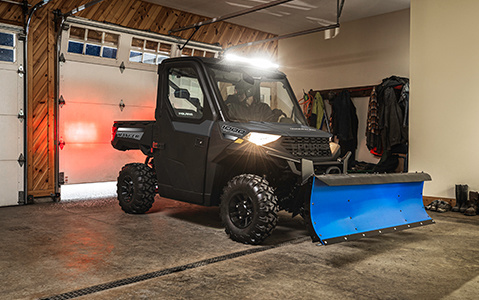 Uniquely Equipped RANGER Designed for Winters Work
With the Polaris Engineered® 4,500 lb HD Winch and Heater Kit installed at the factory, customize your vehicle with the Pro Shield™ Cab System and plow with seamless integration
Plow Integration Made Easier
The steel front bumper with a factory-installed Polaris® 4,500 lb HD Winch and snow accessory integration mounts make it easier than ever to attach the right size plow for the job.
Factory-Installed Heater & Defrost
Control the climate inside the cab with heat and fan controls. Windshield directed ducts keep the windshield clear from icing. Convenient dash mounted controls with 3-speed fan control.
Strongest Electrical Output
The 900W stator comes standard with this package to provide the most electrical output available in the market for your lighting accessories and heat when plowing in the evening.
Cab seal kits are installed at the factory to enable you to customize your RANGER with the right ProShield™ Cab system based on your winter riding needs.
The Winter Prep Package is available on 3-Seat & CREW RANGER 1000 Premium.