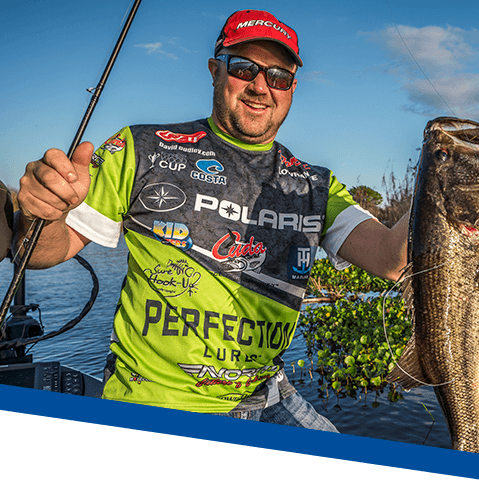 State: Virginia
Not everyone knows what they were born to do, but David Dudley knew when he was just 5-years old what made his heart race - fishing. Sure, the competitive nature of football, basketball and baseball also fueled his competitive spirit when he was in school, but when he was kicked-off the baseball team for skipping practice to fish in a tournament, it was clear what David's true passion was.
The road to become a professional angler is certainly not easy, and when David graduated high-school and others were going off to college, David continued to follow his passion, despite the snickers and scorning from the doubters he encountered. To get good at your craft, you have to practice, and David worked at his craft like no other.
Fishing was his life and his dedication to his craft started to bear fruit as he started to place consistently near the top in tournament competitions. In 2001 he took home a second place prize, and one year later he earned his first win in the Fishing League Worldwide (FLW) competition with a top prize of $700,000. David's dream had come true.
His success then blossomed, winning the FLW tour championship in 2003. Over the next 15-years, David would win countless tournaments and score three Angle of the Year titles, making him only the second professional angler ever to attain such a feat. During that same time, David met his wife Angela, returned to his hometown of Lynchburg, Virginia and now has a bustling family of 5 children.
Now 42, David remains a passionate and fierce competitor, but he has also turned to another passion, dedicating a large portion of his earnings towards the One Body in Christ Ministries, where special focus is given to children and families who are less fortunate.
David is a big fan of Polaris, and uses his to do chores around his property, help with farm tasks and go trail riding. He also helped celebrate the 20th anniversary of RANGER by taking out owners on a the Ultimate Fishing Experience. David and the winner, Gary Milton, caught dozens of bass, making it a fishing trip of a lifetime.
Learn more about David's Ultimate Fishing Experience story, and more about Gary Milton, a RANGER owner from Alaska.