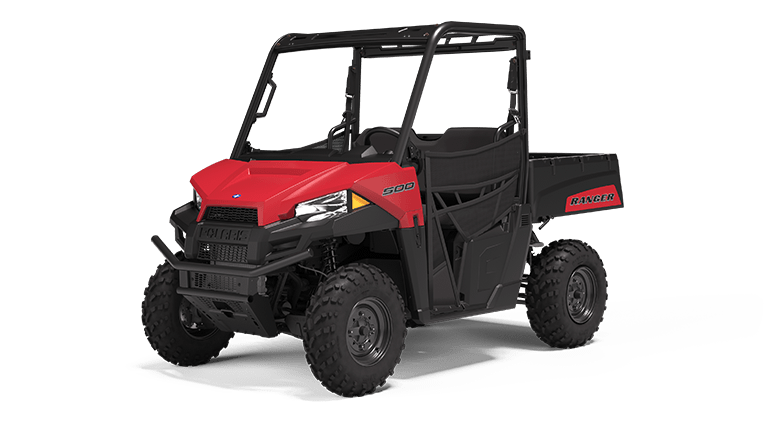 Starting at
$9,699
US MSRP
Built for refined comfort and excellent value, to work all day.
2019 RANGER 500 SAGE GREEN
is rated out of
5
by
306
.
Rated

2

out of

5
by
a10pilot
from
Disappointments with the Polaris 500
I bought this three months ago and while I am generally pleased there are some issues with it that disappoint me. First, I find the engine hard to start in cold weather. Perhaps they need to move from a 500cc single to a twin. I have had a 500 cc thumper and they are not fun. Second, the stock tires that come with the base unit are, in my opinion, junk. They do not turn well and the front end skids when turning (on asphalt, grass or dirt). Replacement tires that might be better are absurdly expensive. I use this on our ranch and the stock tires are not very good at all.
Date published: 2019-12-13
Rated

3

out of

5
by
Art47
from
Too noisy, but ok otherwise
I bought my Ranger about 2 months ago after purchasing 60 acres of land adjoining my house. Land includes some wet, swampy land. The Ranger has served me well and has not bogged down or gotten stuck in the mud yet. My only complaint is that the Ranger is too noisy.
Date published: 2019-12-25
Rated

4

out of

5
by
Tina
from
Runs so much better than my cub cadet
I like the ranger. At times I have to turn the key several times to start it but it runs great. I wish that a rear view mirror was standard equipment as it is a safety thing. We bought one online later. We had a wind shield put on it and love it going through bushes. In the summer I think I would like it without one so I get wind to cool me but have no place safe to store it. I wish also that it had a hand bar by the drivers seat because getting out with the door mesh in the way can catch one's foot causing a fall.
Date published: 2019-10-01
Rated

5

out of

5
by
Tentex
from
Good ride
I picked up my ride the end of January, I have used it nearly every day on the property. I have hauled wood, tools, cinder blocks and concrete in it. It has not failed me. I have a 6.5x12 trailer that I have moved with it and have no doubt that it will pull it loaded. Great machine.
Date published: 2018-06-01
Rated

5

out of

5
by
JeRay
from
Great for Work and Play
I use my Ranger every day to go from my house to the barn to get hay and then to the field to feed my animals. It's also used to put out mulch and carry limbs and firewood. Also used to hunt. It starts on the first crank every time--even when it is below freezing. I got canvas doors, glass windshield, and glass back panel so I can use it in rainy, stormy weather. Thanks to Lock and Ride technology, I can remove the doors and glass in just a minute or two. It's fuel efficient and reliable. I don't spend much time refueling, and maintenance is easy. I look forward to getting years of good service out of it.
Date published: 2021-04-01
Rated

3

out of

5
by
Maple
from
Still evaluating
Now that we have had constant snow cover for several months,[since mid november], I am quite disappointed in the traction. In 4wd the back is very slippery,doesn't really seam to help move vehicle along. I've also had 2 flat tires,one the very first day I brought it home. The polaris service couldnt find the leak so put in a tube. Now another tire keeps going flat with no apparent leak.I will pull it off and return to dealer
Date published: 2019-01-14
Rated

4

out of

5
by
Bart
from
A little more attention during the build process
Overall I'm very happy with the machine, but as I installed wiring to support operation of a winch, I found several primary wire bundles resting directly on the rack and pinion mounting hardware. These would certainly have led to electrical failure in months/years ahead. Also, electronics (fuse block and ECU) are mounted directly in line with mud/water spatter. Recommend, as I did, installing a guard to deflect the inevitable.
Date published: 2019-02-11
Rated

4

out of

5
by
Simmer
from
Game Changer
We bought a new property in the southwest Texas Hill Country in May 2019. Those who don't know the temp. reaches the mid 90s and 100s by late June. Without the Ranger we would not have had the property ready to hunt. We have used the Ranger to haul, tow and just to get us from one side to the other of the property setting up hunting sites. The Ranger was a game changer! Sept. 28th is opening day for archery and we are ready!
Date published: 2019-08-28
Rated

4

out of

5
by
AFS1
from
Reasonable Medium Duty Work UTV
We have put our 2018 Ranger 500 through the initial paces, and found it to meet our needs as expected. We have encountered a few minor mechanical issues so far that the dealer has not yet remedied, but nothing that has made the machine non-operational (bad alignment, coolant consumption, shifting problems). We have some concerns about long term dependability, but we will continue to use the machine until it fails us. Our biggest complaint so far is that leaving the dealer in stock condition, the unit does not do much more than go from A to B. We have had to add an additional several hundred dollars worth of accessories to provide what we consider to be the minimum in storage, lighting, electrical capacity, etc. The stock bed offers no tie down points, and the interior/dash is mostly wasted space as there is no means to secure any items there either, except the very small glove compartment.
Date published: 2018-10-22
Rated

5

out of

5
by
Denny G
from
Great buy
Purchased to work around farm and for fun. Perfect size for my needs. Great engine and drivetrain. Love the turf mode for work aroun the yard. Had a small handling problem but the dealer took care of it and everything is fine. Wish accessories weren't so expensive.
Date published: 2018-03-06
Rated

4

out of

5
by
Lenf
from
satisfied
Working with the staff at CycleWorks has been a positive and helpful experience. My experience with the vehicle itself has been somewhat limited during these winter months that have been bitterly cold. Generally I am fairly impressed with the performance of the Ranger 500. There has been some issue with overheating while plowing snow and the gear shift is not as precise and responsive as I would like it to be. Other than those issues, at this point I am happy with our selection of this UTV. Would be helpful to have power assisted steering.
Date published: 2019-03-06
Rated

3

out of

5
by
Loblolly
from
Too noisy
Vehicle is too noisy. Shifting gears awkward and transmission slow to respond. Also, changing the oil more difficult than on my old Ranger.
Date published: 2018-03-08
Rated

4

out of

5
by
tp-rider
from
Great work machine...but not without flaws...
This buggy is great around our farm...it is a workhorse...however, it appears to be 'missing' most of the time (engine running rough) not sure if that is because it is a 2 cyl or not...but it is not as smooth sounding as our 2006 Polaris Ranger 500. The shifter is missing detents--was driving the other day with what I thought (and saw) was L, but it was actually in High. Have tried to reverse to terrible grinding sounds due to not being EXACTLY in R. Again, our 2006 Polaris Ranger 500 (the main reason we bought the new one was how great the old one was) does (and has never) had these issues.
Date published: 2021-04-07
Rated

3

out of

5
by
CP RAM
from
Ok
At 80 miles the engine had to be rebuilt. Still has a clanking metal sound when you start it. Has a growling noise from the drive system when you go down the road. I was told it's normal
Date published: 2018-06-21
Rated

5

out of

5
by
R7mmag
from
Goes anywhere
I got it in March. Works great for the deer lease. Only regret i wish I had gotten a full size ranger.
Date published: 2018-06-01
Rated

4

out of

5
by
buckhunter
from
Overall Great Machine
I purchased this machine 4 months ago. It hasn't had any problems. Has all the power and comfort I need for its intended purpose. My primary use is retrieving deer, preparing tree stands, and dragging/mowing food plots. Would have given 5 stars if it had the pulse wiring system for accessories. I love the size of the midsized utv. Our woods has tight trails and it fits perfect and plenty of power. Also fits into a 6x10' open trailer.
Date published: 2019-05-01
Rated

5

out of

5
by
I do not have one
from
we have a lot of fun with it
we love the ride and it looks good on the rides we go on it is small but can ceep up
Date published: 2021-03-22
Rated

4

out of

5
by
Little Red 57
from
Great Fun
I've had the ranger for about 3 months and really enjoy it. It handles well on and off the road. The only complaint I have is the amount of dust that comes into the cab. I recently purchased a rear window and this seems to be helping.
Date published: 2018-06-25
Rated

5

out of

5
by
Rusty G
from
Great machine
This has been an excellent purchase. Used almost daily for working on the farm and hunting. Plenty of power with a great ride. The 500 is the perfect size. Big enough for work but small enough to get in tight places in the woods.
Date published: 2021-02-27
Rated

3

out of

5
by
mcerul55
from
Satisfactory
I've been very pleased with the vehicle's ability to navigate hilly and muddy terrain. I've not been pleased with the vagueness of gear selection and a persistent odor of gas.
Date published: 2018-06-01
Rated

5

out of

5
by
Cjbbaugh
from
Perfect work vehicle
I bought the Polaris to work about 10 acres of land. It is more than up to the task. I think it would take driving it into the pond to get stuck it's that solid.
Date published: 2018-06-01
Rated

5

out of

5
by
Al B
from
extremely valuable for ranching
Absolute necessity to get things done on a ranch. Moving livestock, feeding checking fences and water, checking on crops and other errands.
Date published: 2020-03-28
Rated

5

out of

5
by
Lenny
from
Loving my Polaris ranger
I bought my ranger for hunting purposes. I was fortunate to put it to use hauling out two deer this past season. Loving my ranger
Date published: 2018-03-10
Rated

4

out of

5
by
Tony80
from
Game Changer
I bought my Polaris Ranger 500 for fishing, hunting and fun. It has met all expectations and then some.
Date published: 2019-09-15
Rated

4

out of

5
by
Bill 103
from
Works great
I got into a hunting club and needed an off-road vehicle. This Ranger 500 does everything I need.
Date published: 2019-11-30
Rated

2

out of

5
by
ChaseBoys
from
Poor start
Bought this to do work around the property, hunting, and a few rides on the trail. Bike works good once it gets started. VERY VERY hard to start when cold, sometimes simply will not start. Not a lot of power but understood given only a 500. When it starts, good value for $$
Date published: 2018-12-13
Rated

4

out of

5
by
Ringo
from
Handy around the farm
Bought new about 2 months ago and it's great for yard work, hauling firewood anything
Date published: 2019-11-25
Rated

5

out of

5
by
Stanley
from
Love my Side by Side 500 2018
I got it for Christmas and I love it. There are many accessories that make this fun.
Date published: 2018-03-06
Rated

4

out of

5
by
Pete02
from
The battery should be under the hood the battery
The back tires went flat every two days had to put tubes in them
Date published: 2019-09-24
Rated

4

out of

5
by
Koondog mobile
from
Great value for the money
Gets me through the fields and this is why I bought it
Date published: 2019-05-05
Customer Reviews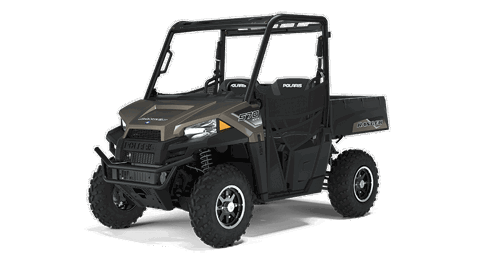 Starting at
$10,399
US MSRP
Built for power and value in a compact package, to work and play harder.
2019 RANGER 570 SAGE GREEN
is rated out of
5
by
401
.
Rated

4

out of

5
by
smnowak2013
from
Nice Machine
I am happy with my Ranger now that I have out fitted the base model I purchased. I still think that they are a bit pricey for what you get with them. You either have to spend a lot to fit out a base model or, pay a lot more for a better equipped model. I believe that quality and reliability are of the utmost importance and I'm not very happy that the machine takes multiple tries to get it started when cold. It never starts on the first try when it's cold and, the stock battery seems very week for a machine that needs a lot of accessories in order to function as a true utility vehicle. Once it is running, the power, comfort, handling and other base features are great. Hopefully, the starting will get better as the engine breaks in. I added a second battery to run electrical accessories and added many other items to make it perform the way I want it to. All in all, I'm happy with it so far.
Date published: 2019-12-22
Rated

4

out of

5
by
abuzzon
from
THE RUBBER ON THE TRAILS!!!
Its been a couple of months with my 570 ranger and cannot be more over joyed except for one problem .. The factory installs 4 ply tires that are less than adequate for a trail ..8 ply or higher should be standard as the first day i was out i got a puncture in the woods...Thank god the people I was riding with carry plugs!!! The rest of the machine was flawless but the TIRES need to be addressed as standard equipment to atleast have 8 ply or better ...
Date published: 2020-03-31
Rated

2

out of

5
by
iujmcas
from
Transmission not the greatest
The transmission integrated parking brake sucks. When parked on an incline, it's almost impossible to get it out of park. The vehicle needs a real parking brake. Also, when putting into reverse it ratchets and then slams into gear.
Date published: 2020-07-16
Rated

5

out of

5
by
Avalon Man
from
Great ride and love power steering!
I have had my Ranger a few months and simply could not be without it. I am approaching 75 years old and this Ranger enables me to perform all of the farm chores I performed 20 years ago.
Date published: 2018-06-24
Rated

5

out of

5
by
John S
from
Comfortable ride and quiet.
I bought this unit for getting firewood, plowing and hunting. I now find myself finding excuses to just go for a ride. Glad I got the Ranger. We have several members at our camp that have other machines they all have their pluses but for my uses, I'm VERY glad I got the ranger. Because of its size and turning radius it's the best in the woods. Because Of the locking diff, motor position, and clearance it's as good as any in rough off road conditions. It can haul a good load of wood, pull a heavy trailer. Very happy with the purchase.
Date published: 2019-11-28
Rated

4

out of

5
by
cfox
from
The 570 does it all.
Bought this as an upgrade to the ATV I had for years and have been using to plow my driveway. The 570 has plenty of power for plowing and for trail riding as well. Also the unit was surprisingly comfortable to ride for long periods of time considering it's primarily a utility unit. Only complaint I have is that I wish I had just a bit more ground clearance on the trails but I can and will be remedying that it just of course costs more money for the list and some larger tires.
Date published: 2019-11-13
Rated

4

out of

5
by
jim569
from
good multipurpose
Good ride, Power steering is great. Turf mode is best feature. Pitiful Decals blow off at carwash. At 12k, this is embarrassingly cheap. Tailgate on bed is horribly weak. Load capacity is zero. Ever tried metal? "engineered plastic impact failure" is embarrassingly cheap on all your products. 2" more footroom on ranger, RZR would probably double your sales. Your got my business, but you could considerably improve the product as noted. Another 2" of footroom has to
Date published: 2019-08-01
Rated

3

out of

5
by
Mark47
from
Lacking
I bought this unit thinking polaris was the leader in utility side by sides. Needless to say ignorance is bliss. Not to brand bash, but once I really looked at the can am defender, I traded. Fit, finish, quality, ease of maintenance, cost, repair cost, storage, so many things...... I feel sorry for polaris if people start looking closely at can am in the utility market.
Date published: 2018-06-21
Rated

3

out of

5
by
JCaesar6920
from
Almost perfect.
I am happy with my purchase. The buggy drives well. My only complaint would be the gear shifter. It doesn't want to go into gear and the gears are "mushy". I know numerous others who have this same issue.
Date published: 2019-05-28
Rated

2

out of

5
by
Bear
from
Must do better!
I spent a lot Time & Money to get it where it should of been from the factory! Like keeping mud out of battery area, and a a lot of other areas. Should have had a lot more though!! Chains! Yes some of us use these in the Winter! Had to put spacer on front and back for clearance. Once again NO thought! I really think that the people making these do NOT use them! O Yes the NOISE the very loud engine noise. This should have never happened from the factory! Just fix this for the consumer doesn't have to!
Date published: 2018-03-07
Rated

4

out of

5
by
crabman
from
Great machine overall
I purchased the Ranger 570 midsize a few months ago and have been very satisfied with the machine. We use it to work so far but I want to get it out on some trails soon. I'm very happy with this machine it has done everything I've asked and has surprised me with it's power and agility. My only complaints so far, the rear sway bar come apart on the passenger side due to loose bolts and I found no nut on the lower shock bolt on the same side. All of this fixed by calling the dealer quickly and without charge. I have found this machine to be what I expected and more.
Date published: 2020-05-28
Rated

1

out of

5
by
KellyOcala
from
Horrible experience, keeps breaking down
I bought this a couple months ago as a vehicle for my farm. The vehicle is not used hard or very often and when I need it most it won't start up or the power steering cuts off. Have brought it in multiple times to have issues fixed and it has never been fixed correctly. This vehicle is an absolute lemon.
Date published: 2020-04-13
Rated

5

out of

5
by
explorewild!
from
Quality Wife Time in the Outdoors
We purchased this in the fall of 2019, my wife never liked going in our f350 to explore our back yard, for her it was intimidating to be in a large truck on narrow logging roads. After this purchase I can finally share the experience and joy that comes with exploring our back country with my wife!........so for that reason alone this was priceless!! and such a reliable product, as you can see fear conquered!!! Thank you Polaris
Date published: 2020-01-16
Rated

1

out of

5
by
Don B
from
Has some problems
I am not happy with a lot of features with this machine. Very hard to clean mud off, took 2 1/2 hr. to wash it after going through mud. Mud gets in everywhere, including all the spaces on the underneath of the box. Hard on fuel. A, lot of heat comes up behind the seats, so much we had to stuff our coats in there to make it bearable. Think it has some design flaws.
Date published: 2019-08-03
Rated

2

out of

5
by
Woll
from
Pretty Disapointed
Knock in motor or transmission. Dealer has been unable to find the noise.
Date published: 2018-04-10
Rated

1

out of

5
by
Kokid941
from
162 miles and check engine light is on
No hard riding, just around the property, crossed a couple small creeks no higher than mid tire, light mud from rain on trails. Just got a check engine light, speedometer stopped working and engine is hesitating after being out in the rain. This is s 2019 Ranger 570 midsize and I'm very disappointed.
Date published: 2019-03-12
Rated

4

out of

5
by
EMP3
from
Get what you pay for!
I bought the 570 Ranger efi several months back. I have a ranch with hills and it handles nicely and what I expected out of it. I'm cautious with driving horizontally on hill sides as the 570 is top heavy especially with a passenger. Definitely learning the do's and don'ts as the more I use it. Definitely recommend a winch to go with it as it would have helped me the couple of times I got stuck! Great bed area and tilt. The negative side is it's turn radius but that was kind of expected.
Date published: 2019-06-26
Rated

4

out of

5
by
Randyvan
from
Good machine
I really like my new 570, it run great , shift great, quite and air flow into the cab is very little with the back and front windows on. I have not notice any dust flying back into the cab with or without windows in place. My only complaint is not having back fenders or something in place to keep the mud from splashing all up underneath the seat area. I had to make some mud guards to help keep it out.
Date published: 2018-11-06
Rated

4

out of

5
by
Tony 1970
from
Tony feedback
Pretty happy overall. I have a 2016 as well. Better grip on the floor board would be nice. I added skid prevention material. Shifter is stiff. Be nice if it was smoother. All other features are fine. Hard to rate reliability below as I only have 100 miles on it. I general battery life on all of my Polaris's since 2009 has been bad. Something needs done to better isolate them to make them last longer.
Date published: 2018-08-13
Rated

5

out of

5
by
Heavy D
from
Friggin Awesome for yard and trails!!
This thing performed on trails in Mechanic Falls Maine that Mavericks had a hard time with....my buddy came with his Tracker but it struggled. I put a lift kit in my Ranger recently, but gotta tell ya this thing performs way better than my Honda!
Date published: 2021-01-01
Rated

4

out of

5
by
BisonPA
from
Nice but very noisy
I like most everything with the exception of a few things. I have trouble getting it to shift to reverse. When you finally get it to shift there is a jerk and noticeable noise as it shifts in gear. I rarely get a smooth shift in reverse. The second thing, it is very noisy. I used a decibel meter while riding and got a reading in the low 80's. The level where hearing protection is recommended is 85. After a long ride it is pretty annoying. I really like the way it looks.
Date published: 2019-09-23
Rated

3

out of

5
by
Chris27
from
Good for yard work.
I bought this a few months ago. Is great for yard work. Sucks for trails. No ground clearance and not much suspension travel. Bottomed out on frame and control arms a lot. It is easy to get in and out of. I think this is a very purpose based perchase. If you are buying for work and play i would buy a different machine. If you are buying it for yard work around the house or farm i think it serves that purpose at an entry level price point. I would like to see more stereo options from polaris for this machine. There is clearly a place under the dash to mount speaker pods yet polaris doesn't offer any.
Date published: 2019-09-15
Rated

4

out of

5
by
wwr244
from
Love it.....
I bought this machine in June and it's been a pleasure. My only gripe is the cost of accessories. I can buy a comparable size TV for the same price I paid for the roof. This is exorbitant and not fair to those who buy your product
Date published: 2019-08-20
Rated

5

out of

5
by
Hank
from
Tough machine
I purchased the 2018 Ranger 570 Midsize mainly to help blaze a UTV/golf cart road on my four acre wooded New Hampshire hillside property where a wheelbarrow and a pickup just can't go. The ground is uneven and steep at times with soft ground and large rock. The power of the 570 makes hauling a bed full of firewood up the hill effortless and the front and rear independent suspension makes the uneven ground just plain fun to traverse. I never thought rock crawling was so much fun. This is a great vehicle for land management and recreation. My only regret is not getting one of these a long time ago. .
Date published: 2018-11-27
Rated

5

out of

5
by
Steven66
from
Great Utility Side by Side
We bought our Ranger in September as a replacement for our golf cart on our property. We did everything with the golf cart such as property maintenance, hunting, hauling, and generally just cruising around. The main limitations of out cart that influenced our decision to buy the Ranger was hauling and towing, and having to stop to re-charge the batteries. With our Ranger, we now have better range, and exceptionally increased towing and hauling ability. Add in a more comfortable ride and increased power we now have a more enjoyable experience doing our "chores" and riding our trails. We optioned a roof, front and rear windshields, and recently added a door kit. Now the weather doesn't hold us back from enjoying our Ranger anytime of the year.
Date published: 2018-12-14
Rated

3

out of

5
by
Carla Hughes
from
Concerns over noise in rear end and dependability
My ranger is 6 months old and will soon have 50 hours. I will be taking to dealer. Very concerned, have made dealer aware to address at 50 hour service, noise in rear end that comes and goes. Getting worse over time. Very concerned that it will break after warranty off. I keep my Polaris in garage and very gentle, as a woman driver. Very disappointed about the dependability issue given the high cost. I have read reviews where others had same issue and had to pay for their own repairs after warranty expired. I've had a Honda 4 wheeler for 18 years and no problems. I would like an extended guarantee on the transmission as it is internal issues. (Have never even pulled anything? no large tires, no bog holes, stop totally when changing gears). No abuse. Dealer is been very nice and I have much respect for Jason at dealership. I trust they will help me, but please give an extension on this problem until we know it is totally resolved and trustworthy.
Date published: 2018-06-21
Rated

5

out of

5
by
Hercules
from
Work horse.
What a work horse. Needed some additional muscle around the cabin and the Ranger has work out better than expected. From hauling brush, leaves and grass to pulling large branches and hauling rocks this Ranger can do it all. Can't wait to get the plow attachment for keeping the driveway clear of snow this year.
Date published: 2020-08-27
Rated

5

out of

5
by
Varmint12000
from
Powerful, stable, fun to ride
Bought it in the fall...love trail riding...got a plow, makes clearing my drive and house apron fast and easy
Date published: 2018-03-06
Rated

4

out of

5
by
Bcrdcowboy
from
Great cab
The 570 edition is a little louder than the larger motor editions. Like everything else
Date published: 2020-03-30
Rated

5

out of

5
by
brad311
from
Great utv
i got this 3 months ago should habe havd one way before now
Date published: 2018-06-21
Customer Reviews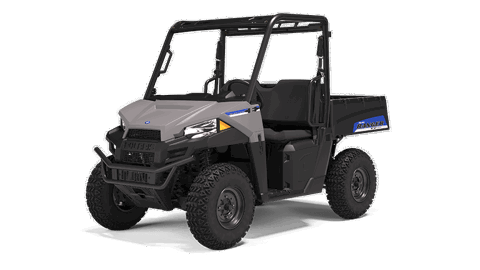 Starting at
$12,299
US MSRP
Built for an ultra-quiet, electric ride with RANGER® capability.
2019 RANGER EV AVALANCHE GRAY
is rated out of
5
by
78
.
Rated

5

out of

5
by
pilchuk2018
from
Solid stable ride
Got a side-by-side with the small cargo bed. Perfect for harvesting pumpkins, hauling work materials, etc. in areas I don't want to trample with a larger vehicle. The EV aspect is great! One less IC engine to maintain, and in my area the electric power includes a lot of hydro and renewable sources. Once I get my own solar up, it will be nearly free to drive.
Date published: 2019-01-02
Rated

5

out of

5
by
Me Ron not Mo Ron
from
Finally Polaris makes an electric UTV
I bought the Ranger EV 3 months ago. There was only 3 in the state of Texas. I went to Houston. It was well worth it. This UTV is perfect for use in my Rv park and checking fence on the ranch in the back. Lots of grease zerts for maintenance and frame is well designed for access to batteries. No more concerns with air filters, fuel filters, oil filters, gas cans sitting around or gas going stale. I can say after getting the suspension lubed this machine is super stealth. I ride up on tenants without them hearing me coming. I ride through the woods and see way more wild life, the 4 legged kind. I use it every day. It has over 60 hours now in 3 months. I put in on the charger at 35% about every 10 days or 3 times a month. Plug it in at 9pm and it is ready to deploy by 6-7am. I have shown it to lots of people. Polaris should send me a commission.
Date published: 2019-08-16
Rated

4

out of

5
by
Appleco1
from
Polaris EV
So far my EV has done as asked. I enjoy sneaking through our woods as quiet as the tires rolling. I have hauled 300# of corn in the back with 2 fat guys up front and mission accomplished. There is a lot of spots that will collect mud and that concerns me..I am worried about carrying the charger on board and it constantly getting wet but we will see.
Date published: 2019-03-27
Rated

4

out of

5
by
CKHNY
from
Nice Machine
I bought it about 8 months ago and I have not been disappointed. The battery life is very long and it has lots of power. I would have rated it 5 stars except it is noisier in 4 wheel drive. It is very quiet in two wheel drive, but makes a grinding noise in 4 wheel drive. Deal said it is a common noise that will not affect performance, but I have not owned it long enough to know for sure.
Date published: 2020-03-11
Rated

3

out of

5
by
Brian of Pemberley
from
Great power and utility, mediocre fit and finish
I bought this sight unseen during the current pandemic, based on many online reviews and videos. The electric power is amazing and is the reason I chose this vehicle. I use it for many jobs around our ten acre property and have been amazed at how useful and powerful it is. The ride is great and no emissions or engine noise is just wonderful. I only need to charge it once a week and even then it's still at three-quarters fully charged or so. I use it daily. The dump bed is very effective and can dump a full 500 lb load easily. Dislikes: the mechanical quality is great (although the turning circle is very large!) and it's well built but the cabin quality is very poor. The switches are cheap and look like something from the seventies. The plastic panel holding the charging indicator and the headlight switch is roughly cut, fits poorly, rattles, and appears to be held in place with drywall screws, one in each corner. There is no odometer or speedometer so I had to add an inexpensive unit I purchased on amazon and required only power (gps operated) - come on Polaris, why so cheap to leave this off? The charging is too aggressive and causes battery boil over so I had to change the algorithm (found it online) to slow the charging. Another cheap-out is the lack of a charging outlet. To charge you have to open the hood and fish out a power cord to plug into your extension cord. I replaced this cheap approach with a panel mounted male power connector which I can easily and safely plug into. Also, the manual is just the gas ranger manual and most of it doesn't apply. There is no detail in the manual on the specifics of the ev model (for example, the charging algorithm, when to charge, how low to run the battery, etc) . Very poor. I would recommend the purchase and I like the utility of the vehicle but I expect more for the high price of the electric version.
Date published: 2020-08-04
Rated

3

out of

5
by
PDE1
from
Is comfortable ride, but clunky
I've had my EV 9 months. it squeeze in the drive train sometimes. it has a slight clunk occasionally. putting it into reverse for a few feet, usually correct the clunky drive. the tires are not very aggressive, so muddy hills are sometimes not possible. the ride is great! seating and storage are good. Lights are too bright, it would be nice to have dimmers or red light alternatives. Also have some control over the rear lights being on all the time the key is on. This is a hunting vehicle!!, lights are not generally good.
Date published: 2018-06-01
Rated

4

out of

5
by
Stringham
from
All good except battery access
Everything about the EV was as expected with the exception of battery access for maintenance. Checking and topping off water in the cells is rather difficult and time-consuming. A watering device engineered to enable efficient access to the cells and topping off should've been included with the vehicle.
Date published: 2020-08-31
Rated

1

out of

5
by
Anonymous
from
Poor Reliability
The controller unit went out after only 3 months and it took over two months to get the replacement part. It would have been much longer had Mountain Motor Sports not found the part on their own. Now after having it back for less then 2 weeks it went out again.
Date published: 2020-03-13
Rated

3

out of

5
by
Power Solutions
from
Electric Side By Side
Even though our brand new 2021 Ranger EV has quite a few issues from very loud metal on metal squealing when the motor is cold, the sub par performance of the on board charger, and erroneous readings from the stock battery state of charge monitor we would likely buy it again knowing what upgrades need to be done to make these units work well. If the Polaris engineers would just tackle some of the issues this would be at the top of the list of off road side by sides.
Date published: 2021-01-25
Rated

4

out of

5
by
PaPa Grump
from
Very good machine for our purpose
Our Ranger EV never gets more than a mile, or so, from our 35 acre farm, but we can use it many hours of the day and still have a good amount of charge left in the batteries at the end of the day. We mainly operate it in low-range, two-wheel drive and a couple hours of operation only drops the batteries to about 95%. This machine has loads of torque and will pull two adults up some pretty steep grades with no issue. My only complaint is that in medium and high range, this unit makes a little more noise than I would like. Has a pretty good hum to it. Have had the batteries drawn down to around 35% and they still change up easily overnight. I also wish the tail lights were switched with the head lights instead of being on anytime the main switch is on.
Date published: 2020-12-28
Rated

5

out of

5
by
Estate
from
Low Maintenance
I bought our EV Polaris early August 2019. Simply plug into a 110 outlet every 4 weeks. No gas, or other maintenance
Date published: 2019-10-31
Rated

4

out of

5
by
Shedhorn
from
Good reliable machine
Good reliable machine. I would like to have the batteries easier to service and less gearbox noise.
Date published: 2019-10-24
Rated

3

out of

5
by
Evee
from
Plenty of power
I enjoy the ease of using my electric polaris but I absolutely dislike having to expose the engine by opening the hood to charge the batteries. Which also puts the hood in danger of cracking. The hardship of filling the batteries with water is a total design flaw.
Date published: 2018-08-13
Rated

5

out of

5
by
El Paso Electric Company
from
Use it daily
We are an Electric Utility and try to use EV units when we can. We purchased the Ranger EV as part of our EV commitment to the community and planet. So far the Ranger has performed as expected with no issues. It is fun to drive and we are looking to purchase additional units in 2020.
Date published: 2019-09-16
Rated

4

out of

5
by
Robb
from
Great handling and ride!
Very good range between charges. Would be 5 stars except when trailering the wind blows the seats up. The plastic storage trays were lost. Poor latch system.
Date published: 2018-03-06
Rated

5

out of

5
by
TammyT
from
I love my Ranger EV!
We bought this so that my husband would have an easier time getting around our property. He needed both knees replaced and couldn't walk well. This is one of the best things that we have ever bought. It helps us out a lot. We do not go off roading, just around our property.
Date published: 2019-09-28
Rated

5

out of

5
by
Best Birthday Present
from
Better than I imagined.
I upgraded from an ATV to the Ranger EV to pull a field mower and run gear around my acreage and couldn't be happier. Because I have to drive it slowly when mowing I added an after market power steering unit. I wish it was a Polaris option feature.
Date published: 2019-10-18
Rated

5

out of

5
by
Ray B.
from
Top Shelf
I charge it once a month and use it for hours daily. Quiet, powerful, no exhaust smell and sometimes I go slow, not any issues.
Date published: 2018-03-06
Rated

4

out of

5
by
BamaBo800
from
Awesome ride!
Owned for 6 months and wanted to give it 5 stars, but it does have some areas to improve. Powertrain is 5 stars, ride is 5 stars, small rattles on the dump bed 3 stars. All the small rattles can be fixed by any mechanical owner. Would buy another one today!!!!
Date published: 2020-04-07
Rated

3

out of

5
by
bobby 123
from
powerful for electric
The big problem is there to many open crevices and opening that get mud in there. The bed has honey cones under it that just cant get cleaned.There must be something done about the design or panels that need to be added.
Date published: 2019-03-19
Rated

4

out of

5
by
Rich 432
from
2019 EV Ranger
Primary use is hunting, also use it for yard work! I live in Southwest Wisconsin, I have 700 plus acres with 350 feet of elevation change. The EV has plenty of power to climb steep slopes and plenty of holdback with the brakes to go down them. My only complaint with the EV is that it is much louder than my Huntve was!
Date published: 2020-12-11
Rated

5

out of

5
by
toothfairy
from
Awesome Machine
Have had the machine 4 months and love it! Use it mainly for hog hunting at night been a tremendous asset.
Date published: 2018-06-02
Rated

4

out of

5
by
Free At Last
from
Love not using fossil fuels!
We power this electric utility vehicle with one of our photovoltaic solar systems and pat ourselves on the back for not further polluting this precious planet to accomplish chores around our 40 acre farm. We encourage others to purchase electric vehicles!
Date published: 2018-07-09
Rated

3

out of

5
by
kstudeman
from
Over all good vehicle
We have 13 of them in service at our industrial facility. They are over all doing good. The only concerns we have are the brakes don't last well at all and the batteries need replaced every year or so on the units we run the most. (24 hour a day operation)
Date published: 2018-06-21
Rated

4

out of

5
by
Ala farmer
from
2018 RangerEV
Great UFC but back right rear suspension squeaks like crazy...dealer said no cure.
Date published: 2018-06-21
Rated

5

out of

5
by
Woody
from
Finally! Someone got it right
Best all around utv that I've ever had! If you want a quite 4-4 to get you to your hunting spot, get a Polaris EV! I've tried serveral!
Date published: 2018-07-24
Rated

5

out of

5
by
Dan 49
from
Should of bought this cart a long time ago
I started with a golf cart 8 years ago. Then owned a Bad Boy Buggie for 5 years. I bought the EV about 4 months ago. No comparison!! What is amazing is how far you can go on a single charge. And that was my biggest worry. The high speed gear is great as well as the low speed gear for creeks and ravines. I use it for pig hunting and not spooking deer.
Date published: 2020-08-06
Rated

4

out of

5
by
Drew33
from
Quiet, versatile, and strong, this vehicle is it!
I am in love with this Ranger EV! It will haul anything, including a trailer full of a cord of oak. It will sneak up on varmints or deer. It goes nearly everywhere.
Date published: 2019-11-25
Rated

5

out of

5
by
Uncgray
from
Ranger EV
We purchased this EV after reading reviews and comparing the other brands. We had a couple issues early on, but our dealer took care of those right away and have been very pleased since. I was concerned about run time in the cold weather, but we never had any problems. The EV has a lot of power when you engage the 4WD and low range.
Date published: 2018-03-06
Rated

3

out of

5
by
ryt3rd
from
Very nice quite riding EV.
I've had my EV for around 3 months and really enjoy it. Battery maintenance is a must! Hopefully lithium ion batteries are in the near future at a reasonable cost!
Date published: 2020-11-17
Customer Reviews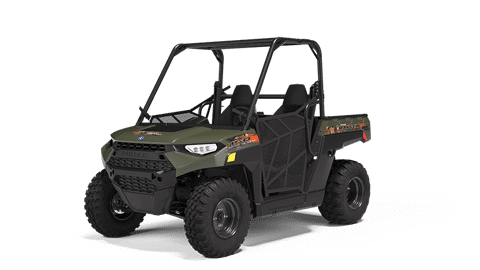 Starting at
$5,599
US MSRP
150cc youth RANGER® with cutting-edge Ride Command® and industry-first safety features.
Reviews for this model coming soon.