KNOW WHAT YOU'RE LOOKING FOR? FIND IT TODAY.
You no longer need to sacrifice power or performance when choosing electric. The RANGER EV features a powerful 30 HP engine, box capacity of 500 lb and towing capacity of 1,500 lb, making it more than capable for tough tasks.
With 10.5" of ground clearance and 9" of independent rear suspension, you'll experience a smooth, comfortable ride over tough terrain.
The RANGER EV is your best hunting companion, with ultra-quiet operation. Maximize your chances of hunting success with more stealthy entry and exit, while still having the capability to get to remote hunting spots.
Take on the toughest work, go ahead, our accessories help you go further & do more.
Customize your RANGER EV with individual accessories that help you get the job done.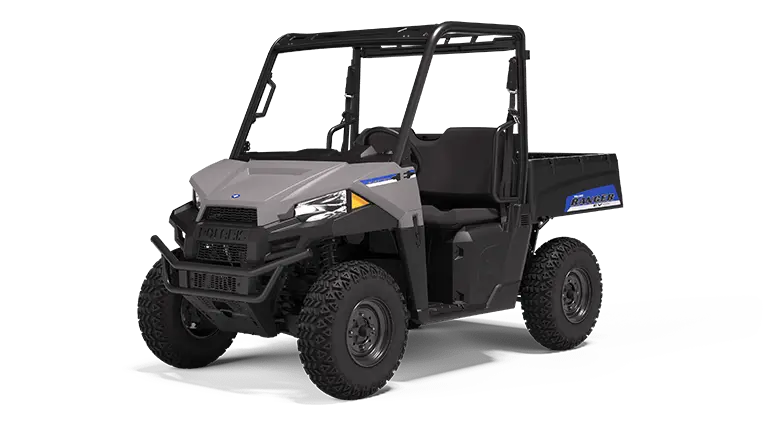 LARGEUR

147,3 cm (58 po)

HP

30

DÉBATTEMENT

25,4 cm (10 po)
RANGER EV
À partir de
14 599 $
PDSF (CA)
Trim & Color Options
Avalanche Gray
Includes
30 HP
Single 48-Volt, High-Efficiency, AC-Induction Motor
1,000 lb Payload Capacity
1,500 lb Towing Capacity
10" Ground Clearance
2-Person Seating Capacity
Polaris Ranger EV Gallery
( / )
L'ensemble des prix, spécifications, affirmations et renseignements sur ce site Web sont fondés sur la connaissance actuelle disponible au moment de leur publication et peuvent être modifiés sans préavis et Polaris n'assume aucune responsabilité pour les changements dans les prix ou les spécifications. Polaris n'assume aucune responsabilité concernant d'éventuelles inexactitudes, opinions ou omissions apparaissant sur ce site Internet. © 2020 Polaris Inc.