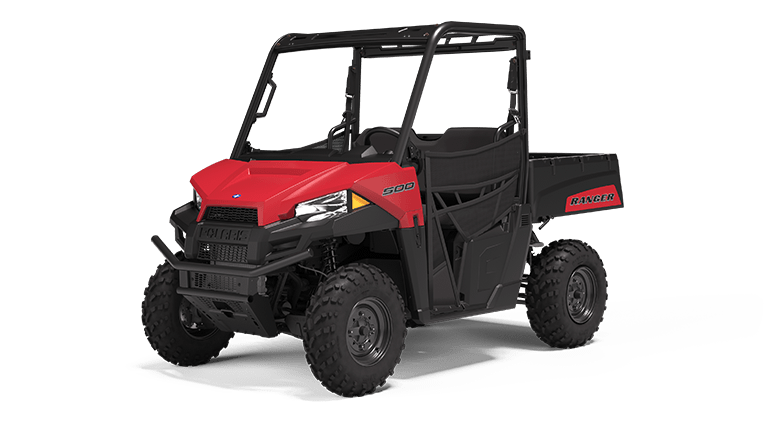 À partir de
11 899 $
PDSF (CA)
Construit pour un confort raffiné et un excellent rapport qualité/prix, pour travailler toute la journée.
2019 RANGER 500 SAGE GREEN
is rated out of
5
by
328
.
Rated

5

out of

5
by
Bumpkin
from
Way ahead of the Competition
Before I bought my Ranger 500 I compared features on at least 10-12 different SXSs that are in the same price range. This one stood well above the others in almost every category. Suspension, Tires, Horsepower, available Accessories, Cargo, Towing, Comfort, etc. The Ranger aced most all of it. I have had it a little over 3 months and so far it has surpassed my expectations. I'm that guy that researches for several weeks, even months before I make any major purchase and the more I checked into it, the more I was inclined towards this one. I had always owned Hondas and still do, and have nothing bad to say about the ones I have had. So that said, it took some convincing to get me to switch. Glad I bought it.
Date published: 2020-04-01
Rated

3

out of

5
by
Bobby49
from
Issue leaves me hanging
I bought the Ranger 500 about 3 months ago. In the first month I noticed when I shifted into gear it didn't always seem to actually kick into gear. I'd hit the gas and all it would do is rev the engine because it didn't actually go into gear. I contacted the place that I bought it from and was told it's normal and should work itself out being that it was new. Well, 3 months into it and it's still doing it I contacted the place again and they are wanting my to charge me a diagnosis fee as well as delivery. So they gave me a machine that wasn't working properly and now want to charge me to fix it. Annoying...
Date published: 2019-06-28
Rated

4

out of

5
by
Double00
from
Overall Great Bike
Been having the Ranger 500, For a few months now. Overall it's a good bike. Few minor things I did on my own like added stick stoppers to avoid rocks from getting jammed inbeween axle and transmission making a loud screeching noise. Added a back window due to the draft of the dust from having a windshield and it sucking it in. Wish it had a little more ground clearance but it's average height for that size bike. If It could have one thing more it would need some type of inside fenders. I ride gravel roads and occasionally some mud roads. The rocks and mud get all up under seat and all over electronics on just a short ride. I find rocks is some weird places.
Date published: 2018-12-25
Rated

3

out of

5
by
Rangerider 88
from
Good Entry-level Machine
The Ranger 500 is a good value for the price range it is in. It appears that it will be reliable & built heavy enough to stand up to many years of normal use with regular routine maintenance. The issues I have are: the shifter placement makes key access very hard; the location & type of screw-on dipstick makes checking the oil a real pain, hence I won't check the oil every time before I operate the unit; & the factory accessories, such as doors, windshields, roof & most others are way oved-priced! If I added all the factory accessories I'd like to have, the price would more than double the base price of the Ranger! That is not good value for my money. I'll just do without most of the accessories I would have bought from Polaris or find after-market items that will work for a lot less money.
Date published: 2019-12-28
Rated

5

out of

5
by
Bernie R.
from
As good as the full size!
I went in a couple months ago to buy my first new vehicle/side by side ever. I came in with the full intention of purchasing the 570 because I am a bigger guy and need room. I test drove it and the 500, well it was $1000 cheaper honestly. I then test rode them again and found that even though the 570 was a little bigger and a little more power, I was really happy with the 500 and felt like I was not settling or just doing it to save money. I am very satisfied with my purchase, for the record I am 5'10 and at the time 315lbs(30lbs lighter now) and it is comfortable and does everything I want or need it to do and it keeps up with my buddies kawasaki mule pro crew without a problem.
Date published: 2019-11-08
Rated

5

out of

5
by
HoggerJon
from
Perfect for us...
We purchased the Ranger 500 a few months ago, for utility use on our property. My wife really likes it because it is easy to drive. The cargo box makes it more useful than the 4 wheeler we had. This model is perfect for our needs. Adding a roof and windshield increased the comfort level. A rifle rack is mounted overhead and out of the way. The machine is accessory friendly and ergonomically designed. I recently used it to transport an elderly neighbor following an ice storm. My 4 WD truck would NOT have made it. Very happy with our Ranger.
Date published: 2020-02-19
Rated

5

out of

5
by
Max721
from
Couldn't Be Happier!
I did quite a bit of research and ended up purchasing this unit with a top, front & rear LED lights, & the Power steering option, along with the 3500lb cable winch. This UTV is great and has handled everything I've thrown at it from pulling downed trees from the mountainside, to hauling supplies. It is plenty fast enough for me and I use it quite often on my 40 acres of mountainside rural Virginia. The dealer was great, competitive pricing, great communication on the status of the extras and they delivered it to my home without any added fees! Highly recommend both the model & the dealer!
Date published: 2019-03-29
Rated

5

out of

5
by
Aguyindallas
from
Basic and does the job!
After a tough hunting season last year due to not being able to easily reach my spot, I had to find a solution fir this year and going forward. I started to check out various side by side options and narrowed down to just the simple and basic 500. It was a good value and is capable of whatever my needs are so far. I routinely fill the bed with feed bags and tools and often tow a trailer around the property. I have no issues at all and I am very happy that I've bought it. It's given me a lot of freedom to access the property and not scratch up my truck. I sometimes wish I would have bought a crew for the extra space but that need in minimal. I thought that possibly the 500 might be too small of an engine and have yet to be disappointed in its performance. I went basic and it worked for me.
Date published: 2019-09-20
Avis des Clients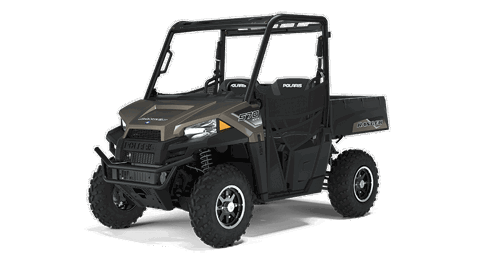 À partir de
12 699 $
PDSF (CA)
Conçu pour la puissance à un rapport qualité-prix dans un ensemble compact, pour travailler et jouer plus fort.
2019 RANGER 570 SAGE GREEN
is rated out of
5
by
426
.
Rated

5

out of

5
by
Haloranger59
from
Perfect Midsize Side-by-side
We purchased the 2018 Polaris Ranger 570 for primary use around our farm. Much of our farm is very hilly and heavily wooded. This ATV has been a terrific addition to our equipment. Often handier than taking the 4X4 tractor. It handles beautifully with manual steering along our winding trails and has high clearance thanks to its prop-shaft drive to the wheels. Ride is very smooth and it has plenty of pulling power. Our only optional enhancements were a flip down windshield, a rear window and a center mounted rear view mirror and factory ordered Camo (my wife's insistence). It sips fuel and has great range between fuelings.
Date published: 2018-03-07
Rated

5

out of

5
by
Henny
from
Hunting use review
2 constructive thoughts: Ability to turn light off on speedometer , the light as it exits prohibits ability to turn off blue light. So it's very hard to see driving into a hunting position without lights. An optional switch to turn that light off would be nice. Now I need to cover the light with my hand so I can see in the dark. 2 nd thought - even though the manual says that I can use the electric input without turning on key , my electric input only works when engine is running. I want to use a spot light for night coyote hunting. I need to have engine running to use spotlight. Not good for hunting when coyote.
Date published: 2018-03-24
Rated

3

out of

5
by
Sony
from
Not the quality I would have expected
I purchased my "lil rig" a couple of months ago. While it does do the work I need it to, the quality of the build is not what one would expect. It will not engage in reverse some times. The door panels are all one number so the passenger side the buckle faces in and scratches the paint. Also the plastic on the hood and sides are not In allignmen therefore the hood and sides flap in the wind. I did ask the dealer I purchased it from, they told me that's just how Polaris is built. This is unfortunate, they are NOT the quality one would expect. I expect so much more from a local MN company.
Date published: 2019-10-21
Rated

5

out of

5
by
CA-John
from
Hard working, great utilty, great performance
I have about 20 hours on my Ranger 570. It works hard with no fuss. I tied a large portable generator and a welder in the back and had a portable welding unit. It holds my chainsaws and a stack of fire wood. Love the 4WD when I need it to cross creeks and get up rough areas. I love the turf mode when 4WD is not needed. Simple to switch between them while moving! It is great to throw in a bunch to tools to get the job done. I added the fabric roof which is nice to keep the sun off. The dump feature is very handy. Instruments are easy to see and tell me what I need concerning maintenance. Works well towing as well. Three big guys is a bit tight, but is still functional.
Date published: 2019-03-21
Rated

5

out of

5
by
Denny
from
New Ranger 570 Midsize
Love this ride! Comfort with windows, doors, heat when plowing, I do that with a smile on my face. My only regret is that I can't drive it enough. Great on the trails, my wife feels safe & is comfortable. I've had three Polaris ATV's and at my age (73 yrs.) I still like them but the sit down comfort of buckling up and taking hold of the steering wheel and heading out can't be beat. The turf mode is wonderful for doing chores around the yard without ripping up the grass, and the 570 is beefy enough to push around a heavy Minnesota snow. I also want to compliment Chopper City Sports, the crew at that store makes sure the customer comes first! They have gone the extra mile for me & it is appreciated, Polaris can be proud of people like that in their organization.
Date published: 2018-03-15
Rated

2

out of

5
by
Axeman
from
ranger review
So far this machine is serviceable. Some of the engineering is ridiculous. Example: "Park" is all the way to the bottom, instead of the TOP, like every. automobile. in. the. world. Muscle memory has had me pull in, put the gear shifter in HIGH GEAR, and shut the machine off - twice, now - like EVERY automatic transmission automobile I've ever driven. I can't imagine the boardroom discussion that took place to make THAT decision. Just dumb, and I think a huge potential product liability issue. There are a couple more things I really don't like but THIS one is huge. I should have done a little more hands-on research before I bought it.
Date published: 2021-06-23
Rated

5

out of

5
by
DanB12
from
Good choice for me.
I purchased this in the fall for hunting season. The mid size 570 gets through tight spots with no problem and got me through the deep muddy areas near the swamp. My hunting spot is 1/2 mile from the road and I usually canoe in. Shoulder surgery ruled out paddling and a bum knee ruled out walking so this was plan B. Best move I ever made. If you are thinking about getting one of these you will not be sorry. I added the roof, windshield, and winch and sprung for the camo. Great looking machine and goes anywhere.
Date published: 2020-03-11
Rated

5

out of

5
by
Jawz52
from
solid performer
I purchased my 2018 Ranger 570 six months ago to use around some rural property. I primarily use it to fill wildlife feeders and cruise the fence lines looking for downed tree limbs, etc. The power and torque are great, especially when dragging large tree limbs. The power steering option would be nice as it is a bit stiff when trying to make a sharp turn at very slow speeds. While the nylon strap doors can be a bit cumbersome, they have prevented me from being whacked by brush and limbs on more than one occasion! The lock & ride windshield is absolutely awesome!
Date published: 2018-06-01
Avis des Clients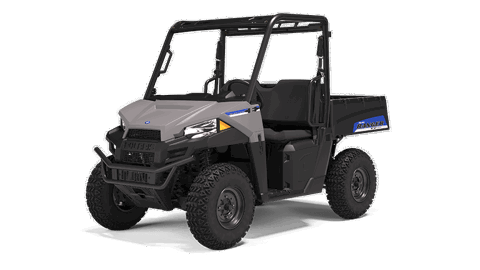 À partir de
15 099 $
PDSF (CA)
Construit pour une conduite électrique ultra silencieuse avec les capacités du RANGER®.
2019 RANGER EV AVALANCHE GRAY
is rated out of
5
by
81
.
Rated

4

out of

5
by
TMoney
from
Love my EV
I bought this EV at the end of the year. Deer hunted off of it twice and now turkey hunted off of it numerous times. It's pretty muddy where I hunt especially with all of the rain we've had lately. Love it but motors are a little loud.. makes a high pitch whining noise when cruising and when mine engages in 4wd the front end motor grinds and the harder that front end has to pull, the louder it gets. Took it back to dealer to make sure they had fluids in it. Was told that was normal and not going to hurt anything that Polaris' was aware of the issue but right now they all make noise and the were working on a fix.
Date published: 2020-03-31
Rated

4

out of

5
by
Bullelk428
from
Great Ride
the Polaris EV is an awesome vehicle. I haven't got to use it a whole bunch but have recently been to the mountains with it. It will go anywhere if you are brave enough. I'm still learning the best way to drive it to manage battery power. Each time I go I get better at it. The first time I went I had 30% battery left, the most recent time I went, 50%. Going the same place with the same load. the reason for the 4 starts is the battery location or accessibility. Trying to perform maintenance on the batteries is challenging. I hope in the future there will be other methods or changes made to perform the maintenance.
Date published: 2020-03-21
Rated

5

out of

5
by
RichCamp
from
Excellent vehicle for my needs
The only thing to fully be aware of that this is not as quite as and EV car/Tesla, almost every time we drive it, it seems to have different noises and at different speeds yes on level ground like a type of hissing to a wobble noise. Might be a break pad rub on rotation making a hiss. I have tried to hit brakes harder and played with the hand break up and down to make sure it's not engaged.I have video's but it need to be uploaded on Youtube it looks like. We have added the fold down front windshield and back window and poly doors very happy with all these extra purchases for less dust noise cold, mosquitoes. Very happy thus far.
Date published: 2020-07-10
Rated

5

out of

5
by
scooty
from
Loving it! But Dealers need education
Bought this for snow plowing and forest/yard work across our 14 acres late last summer. So far it has performed flawlessly. Being only 14 acres, I have not really had to stretch the electric range very far but I have driven it for fun up and down VERY steep hills for over 30 minutes over probably 10 miles and have not gone below half-charged. Charging is simple and convenient. My only complaint really is Polaris knowledge of their own product. They still don't know the EV very well and even the local dealer had to call for tech support for some of the electronic hookup questions. And their website is no help at all. I'm sure this will improve in the future but for early adopters of the latest models it is a PAIN.
Date published: 2018-03-08
Rated

4

out of

5
by
Treebor
from
Good battery life
Ranger EV was purchased to replace a gas powered Gator(John Deer) to serve has a UTV for outdoor work done at a large facility. Going from gas to electric was a bold choice and seems to be working out well. Battery life was a huge surprise to me, being able to get through basically a full work week on a single charge. Lots of torque and the 3-way optional drive mode is very handy. My only concern is how the battery bay is open to the elements and receives quite a bit of splash back from the wheels. The price. Also noticed some drop in power on our coldest days so far. Overall good machine for its purpose here. I can't say I would buy one for myself though.
Date published: 2019-11-27
Rated

5

out of

5
by
Madmatt
from
Good value for what you get
I love pretty much everything about this EV Ranger except the range. I have a lot of hills around me and the hills really draw the battery down quickly. I do run it it max power most of the time as well. It may do better in conservative mode but is much slower. If I could have one improvement it would be range. My particular unit has the fully enclosed cab which is great and I would recommend it. The other down fall is lack of gauges and instruments. Kinda feels like it is stripped down a bit, but simple is good in a way too. Overall it's quite with a bit of a high pitch whine when driving. The range leaves me wanting a gas rig sometimes to keep on going aa I am forced to turn around because of batteries being depleted.
Date published: 2020-03-11
Rated

4

out of

5
by
Demo45
from
Ranger EV
Overall, I am very pleased with my Ranger EV. Bought it for hunting but I find myself using it daily for all kinds of things. Has lots of power and climbs steep hills with ease. Really nice not having to carry all my stuff to my stand. A few improvements and I'd give it 5 stars. I think the motor could be a little quieter and it needs a switch to turn off brake lights when hunting. They illuminate when the key is in the on position.
Date published: 2019-05-01
Rated

5

out of

5
by
Iotaprime
from
Everything we expected!
We use the EV in a ranch/hauling mode not in a recreational mode. We love the dump bed, the quiet, the ground clearance, the metal protective plate underneath, the gear selections (low/mid/high range), and the bed capacity. We really love how quiet it is (have to say this at least twice!). Keeping it charged up is easy.
Date published: 2018-10-22
Avis des Clients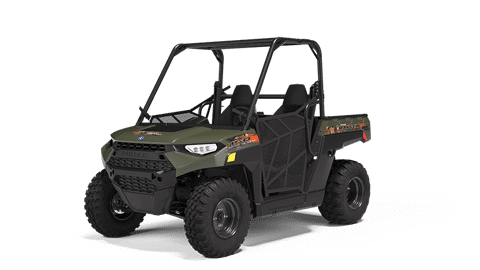 À partir de
6 599 $
PDSF (CA)
Le ®RANGER de 150 cc pour jeunes avec Ride Command® de pointe et les premières caractéristiques de sécurité de l'industrie.
Reviews for this model coming soon.